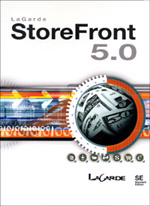 StoreFront© (www.storefront.net)

StoreFront 5.0 is the fifth generation of LaGarde's market leading e-commerce software product line. StoreFront 5.0, as did its predecessors, sets a new standard in e-commerce software. StoreFront products are designed to provide small to medium sized enterprise customers with highly robust, professional e-commerce tools. StoreFront 5.0 offers unparalleled features for easily and effectively building profitable online operations for retailers, wholesalers, distributors, manufacturers, professional associations, government institutions and not for profits.

Building An E-Business
Manage business rules, including payment processing, sales tax and shipping rates, using StoreFront's administrative tools.
Merchandising Products
Catalog a virtually unlimited number of products in the StoreFront database. Shoppers can browse dynamically created product pages or use the advanced search utility to find specific items.
Marketing Effectively
Use StoreFront's affiliate program and promotional mail utility to drive web store sales. Offer special sale prices, storewide discounts or free shipping as customer incentives.
Serving Customers
Allow customers to save items for later, e-mail product information to friends, login to retrieve previous orders and use foreign currency conversion services.
Processing Orders
Automate shipping and tax rate calculations, off-line or real-time credit card processing and automated e-mail order confirmation.
Managing Sales
Utilize StoreFront's advanced reporting tools to manage sales and customer records. Print e-checks, invoices, sales and product summaries and credit card transaction reports.
Securing Online Operations
Ensure the security of customer and business data using StoreFront's sophisticated support for SSL, credit card encoding, and customer data management.

StoreFront 5.0 Features:
l Unlimited Products
l Integration with Microsoft Access
l Integration with Microsoft SQL Server (AE Version)
l Unlimited Price Sensitive Product Attributes
l Customer Management with Login
l Built-in Support for Real-Time Customer Support via "ezeehelp"
l Currency Conversion Services via OANDA
l Save for Later/Saved Cart
l Advanced Sale Features:
Sale Price by Product
Store-Wide Discounting
Free Shipping by Order Total
l Ability for Shoppers to E-Mail Product Information to a Friend
l Support for Product, Value, or Carrier Based Shipping
l Real-Time Shipping Rates for UPS, Fedex, and USPS
l Advanced, Customizable Search Utility
l Sophisticated Store Themes and Theme Creation Tools
l Two-Tier Tax Capability for Countries with VAT or Other Multi-Level Tax Structures
l One Click Support for all Windows Currency Types
l Accept Electronic Checks, Purchase Orders, COD, Credit Card, and Phone/Fax Orders
l Built-in Support for Online Transaction Processing Services, Including:
CyberCash
VeriSign PayFlow Pro
Card Service International LinkPoint API
AuthorizeNet
PlanetPayment (serving global merchants)
Merchant OnLine
SurePay

SecurePay
Internet Cash
ChargeSolutions
Approve Net
PSiGate
Quick Commerce
l Credit Card Data Encoded for Security
l E-Mail Order Notification to Customer and Merchant
l Promotional Mail List
l Affiliate Partner Program
l Detailed Sales Reports, Invoices, and Sales Summaries
Add StoreFront to your website (SOHO Hosting Plan or above).

For more information about StoreFront, please visit the StoreFront web site at www.storefront.net.